A full line of therapeutic pain relief products
which are reuseable, microwavable and freezable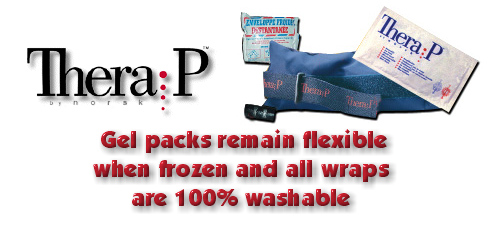 MIGRAINE PAIN RELIEF




•

Soft terry wrap provides extra comfort.

•

Adjustable Velcro closure means that one size fits all.

•

Get soothing relief from migraines and headaches
the NATURAL WAY.

| | |
| --- | --- |
| | Great for relieving the stress associated with stiff necks |
| | The perfect solution for a toothache or to reduce swelling after a visit to the dentist. |
ARTHRITIS PAIN RELIEF




•

Soft terry Mitt construction provides comfort and a long life.

•

Unique 3 pocket design allows for simultaneous treatment
on both sides of the hand.

•

Elastic-Velcro closure means the Arthritis Mitt will fit
any hand size .
BACK PAIN RELIEF




2 PRODUCTS IN 1
1.Quality constructed Neoprene Back Support
•
wear it at home, at work, while excercising,or whenever you need a little extra support

•
conveniently designed as a one-size-fits-most
2. Ice cold/moist heat Gel Pak Insert
•
reuseable gel pak can be easily inserted to provide soothing pain relief
ARTHRITIS KNEE PAIN RELIEF




•

Knee wrap with Velcro closures to fit comfortably and securely. .

•

Soft mesh lining protects the skin from coming in direct contact with heat or cold.

•

Gelpack molds to the knee - even when frozen.
HAND/WRIST PAIN RELIEF




•

A solution to the pin of repetitive motion injuries and carpal tunnel syndrome .

•

Unique 3 pocket design allows the hand and wrist to be engulfed in soothing cold and warmth.

•

Wrist is held frmly in place for high compression.